Matches
From Wiki
Matches allow you to search for and find duplicate profiles Connected to your Tree. These matches include all similar profiles that share first and last name, date of birth and death (if applicable) as well as gender. We also search for dates within +/- 4 years (circa). When you enter a year search term, such as year of birth, your results will only include profiles that have a matching year. Check the Match blank years box to also include profiles that don't have a year entered. Similar profiles matches uses the match on blank years option to find all potential matches. Similar profiles also searches maiden names and last names. You'll notice an OR search term in the last name field of these similar profile searches. You can use OR in any name field except for All Names to expand your search.
Matches are pulled from all profiles Connected to you with the exception of minors. Note the data, first and last names, birth and death dates as well as gender must match for a result to be returned. Not all information must match but at a minimum the first and last name and an at least one immediate family member must match. Any clearly conflicting data will remove a match from the profile, however if one profile has the data blank and the other does not it is still a possible match because a conflict does not exist.
You may search for and find the results of your matches from the profile page just above the recent activity or from the Tree and 'More' menu by selecting 'Search for Duplicates.' From the Profile page, if there are matches, those matches will automatically be found and saved on that profile. Select the link from the profile page to see the full list of matches.
From the Relatives tab you may now also simply select Hot Matches to be taken directly to a list of all the Matches on your Tree.
Tree Matches
When you add a new profile to your tree an icon will appear indicating how many profiles share the name, gender, year of birth, and year of death (if applicable) of the profile you've added. Pro users can view a list of the matches to confirm that they are duplicates and request to collaborate with the manager of the duplicate profiles. Matches in the Tree will look like the image below: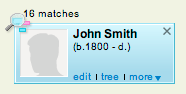 We also include matches to the already existing profiles in your Tree. The magnifying glass includes a number which represents the number of 'Similar Profiles' that were found that match the profile in your Tree. Pro users may click on the icon to receive a list of these matches and work to Collaborate with the other Profile managers in that list to merge and eliminate duplicates.
To turn off Tree Matches you may select 'Preferences' at the bottom of the Tree page and check 'Hide Profile Matches.'
Merging from List
Matches are included on all list views now with the exception of two: Merge Issues and Search Results pages.
If you have editing rights on both profiles (i.e. they are managed by you, in your Family Group or you are Collaborating) you may merge these profiles directly from the Matches or Similar Profiles list. Look for the 'merge profiles' link in your hot match results. This link will give you a side by side merge preview so you can confirm that both profiles are for the same person.
If you have editing rights on one match, you may now user the 'Contact Manager' action to submit a Request to Merge for that profile. After selecting Contact Manager you will be taken to the merge flow (side by side) if you are not collaborating with the other manager you may send a Request to Merge to that person. Once accepted the profiles are merged. Note: no pending merge will appear in the Tree. You may also send request to merge to living members on that list as well. All of these requests made from this page will be included in your Requests Inbox on your Home page.
Tips
Use Matches to coordinate and collaborate with other Geni users to Merge Trees and Profiles. If you find duplicate profiles in your Tree using Matches you may wish to first contact the profile owner or manager to let them know you too have a duplicate profile for the same person.