GuideStart
From Wiki
Geni Guide Topics: Getting Started | Settings & Privacy | Collaborating With Others | Merging Trees
Step 1: Create Your Account
If you have never used Geni before, the first thing you need to do is to sign up for an account. Just go to http://www.geni.com and enter your first name, last name, email address, and gender. When you click the Start My Tree! button we'll create your account and send you an email with your temporary password. We suggest that you use the link in the email to set your own password.
Step 2: Add Your Family
When you create your account the first thing you'll see is your tree with your node already filled out. Use the yellow arrows to add on to any node:
Up for parents
Side for siblings and spouses
Down for children
Start by adding all of the family members you know, including nieces and nephews, cousins, and in-laws. The more people you add to the tree the better chance that you'll find a connection to an existing tree. Adding birth and death dates is also highly recommended. And make sure that you add email addresses to living relatives so they can join Geni and fill in parts of the tree for you.
If you add a profile that matches a profile on another tree you'll see the hot matches icon on the tree node: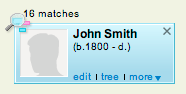 This means that another Geni user may have already added that branch to their tree. Click the icon to view the list of matches. If there is a match, you can merge the profiles and that branch will be added to your tree. This will save you the time of adding a duplicate branch to your tree.