GuideMerge
From Wiki
Geni Guide Topics: Getting Started | Settings & Privacy | Collaborating With Others | Merging Trees
Tree Hot Matches
If you add a profile that matches a profile on another tree you'll see the hot matches icon on the tree node: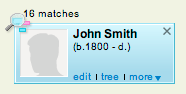 This means that another Geni user may have already added that branch to their tree. Click the icon to view the list of matches. If there is a match, you can merge the profiles and that branch will be added to your tree. This will save you the time of adding a duplicate branch to your tree.
Hot Matches List
Once you have added all of the information that you have, invited your living relatives, and shared your profiles, you can view your Hot Matches list to see if any of your relatives are already on another Geni tree.
If you don't have any matches yet you can check back after your relatives join your tree and start adding more people. If you do have matches, sign up for a 14 day free trial of Geni Pro to view your matches. As a Pro user you can view Hot Matches, use Advanced Search, and Collaborate with other Geni users.
If you find a match that looks correct, use the Confirm Match link to view the two profile side by side and confirm the match.
Requesting the merge will send a request to the manager of the duplicate profile to merge them. You can add a short message to the request if you'd like. Once the approve the merge your tree will include any additional information that was on their tree. This may include new Hot Matches, so make sure you keep checking your Hot Matches list.