GEDCOM
From Wiki
What is it?
GEDCOM, an acronym for GEnealogical Data COMmunication, is a specification for exchanging genealogical data between different genealogy software. GEDCOM was developed by The Church of Jesus Christ of Latter-day Saints as an aid to genealogical research. A GEDCOM file is plain text (usually either ANSEL or ASCII) containing genealogical information about individuals, and meta data linking these records together.
Most genealogy software supports importing from and/or exporting to GEDCOM format. However, some genealogy software programs incorporate the use of proprietary extensions to the GEDCOM format, which are not always recognized by other genealogy programs. The GEDCOM TestBook Project evaluates how well popular genealogy programs conform to the GEDCOM 5.5 standard. Additionally, many tools exist to convert GEDCOM files to HTML pages.
Also, for additional information on GEDCOM, as it pertains to Geni, you can refer to the GEDCOM Overview page.
GEDCOM Export
You can export a GEDCOM of any Tree in your Forest from the Share page of your Tree tab.
For more information see the GEDCOM Export page.
Export from personal software
Another form of GEDCOM Export is something one would need to perform with their offline family tree (from a genealogy program/software) if they would like to IMPORT their family tree onto Geni.com to either start a new account or to Import and Merge into an existing Geni.com tree (offline export for online import).
An example would be if a Geni.com user has a family tree that was built using a common offline/desktop genealogy program or software package (i.e. Family Tree Maker, Legacy, etc) and wants to start a new family tree on Geni.com or add to his/her existing family tree on Geni.com but does not wish to manually enter all the names and wants to do IMPORT their offline tree and merge it with their online Geni.com family tree.
Before attempting to Export a family tree from an offline or desktop genealogy program/software package, care should be given to the Export settings that one might have on their offline/desktop genealogy program.
Many desktop/offline genealogy programs support UTF-8 so Geni.com decided to support it as well. When attempting to export your family tree from your offline/desktop genealogy program/software for the purpose of Importing it onto Geni.com one should follow the instructions on their offline genealogy program regarding "exporting family tree as a GEDCOM file" (usually an option on the main menu under FILE...next to "Save As" there should be an option to "Export" or "Export to GEDCOM"). When the "Export As GEDCOM" menu option is chosen, the user should then check the Export Settings and make sure that prior to exporting their offline tree and saving it as a GEDCOM for importing onto Geni.com, the options are set to the BEST POSSIBLE ones to make importing the GEDCOM onto Geni.com as seamless as possible (and to avoid thousands of duplicate files if duplicate profiles exists within the offline tree when compared to the Geni.com tree).
Before exporting your offline tree using your desktop/offline genealogy software/program, make sure that the following Export Settings are enabled:
UTF-8
GEDCOM 5.5
Standard UNICODE encoding

By exporting your offline family tree with these settings you will ensure that as many data fields are saved as possible and remain intact after your family tree is imported onto Geni.com.
GEDCOM Export from Geni
All Geni users may export their files from the site using Blood Export, Ancestors or Descendants. However only Pro users may export their Forest from the site. You may do this from your GEDCOM page by selecting the appropriate file and then Export. Note that if you are using PAF software to read your file you may update the Type to export a PAF specific file.
Pro Users may do a Single Click GEDCOM Forest Export and also recieve priority GEDCOM support for exported files from Geni. Note the Pro Export is limited to 100,000 profiles.
Exported profiles contain all of the profile information entered on Geni for those individual profiles in your Family Group, those profiles you manage and the full public profile for those in your Forest. If the manager has updated their Settings, the public profile may contain limited information regarding that person and therefore a limited exported file.
While your files are being generated, you may see the Tasks interface on your Home page just below your Inbox messages (if applicable) on the right-hand side of the page:
GEDCOM Import
GEDCOM import is currently not possible. As administrator Monica Cruz explains, "In the past we allowed users to import GEDCOM files onto Geni. However, this caused a tremendous amount of duplicates and cleaning up the Big Tree became a tedious task. Therefore, we have temporarily disabled our GEDCOM importer feature to prevent people from creating duplicate profiles.
"You might first try searching for a Surname or our Public Directory to see if any of your relatives already have those people included in their tree. If they do, you can easily reach out to them and merge your tree with theirs. Once you are merged into their tree, those profiles will also be in your tree and you will be able to access/edit that information.
"If their profiles are not yet on Geni, you will be required to enter those people on the tree manually."
The following instructions are retained in the event that GEDCOM importing is restored:
Pro members can build their Geni tree from their GEDCOM files by following these steps:
Go to the GEDCOM Import page (http://www.geni.com/gedcom/start).
Fill out the form and upload your GEDCOM file.
Indicate who you are in your file.
Select any of the Options you would like to have included.
Finish the upgrade to Pro
You're done!
Note: the only current option on the site is to include those NAME records in the Display Name field. This means that any NAME tag will be shown on the profile as the Display Name.
Geni will import your GEDCOM file, for up to 50,000 profiles, and build your tree for you. Note that those profiles that fall outside of your Maximum Family Group will automatically be Shared Profiles. Your Maximum Family Group is your default Family Group including in-laws connected through ex's. You may view all the site definitions in our Glossary You can begin filling out your profile information right away.
During the import you can view the progress of your import which will look very similar to: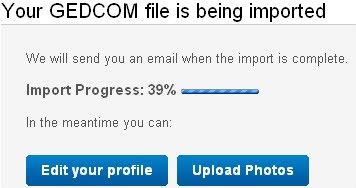 Once your GEDCOM has been processed and your Geni tree is built you will receive another email.
Please Note: Importing a GEDCOM will create a new Geni Tree. If you already have a Geni account you must use a different email address for this import. This will start a new Tree which will not be merged into your existing Tree. We plan to enable GEDCOM Import into existing Trees in the future. For now see HOW TO: Merge your GEDCOM file(s) into your EXISTING tree for information about merging into an existing Tree.
(Note for Gmail users: you may insert a period or a plus into your email address if you are creating a second tree and it will still be delivered to your Inbox eg. johnsmith@gmail.com can receive messages sent to john.smith@gmail.com or johnsmith+gedcom@gmail.com)
GEDCOM Import to Existing Account
Currently we do not have the ability to upload a GEDCOM file directly to an existing account. However, we recently released some features that allow you to merge two existing trees into one. To begin the process, you will need to create a new GEDCOM account with a different email address other than the one associated with the existing account. Once you have uploaded your GEDCOM file, you may then add yourself (and the email address of the GEDCOM profile) to your existing tree and submit a merge request to your GEDCOM account.
After you accept the merge request, the trees will then be merged and you will be prompted to resolve any conflicting data between the two trees. Resolving the data is a simple process of selecting the appropriate or correct information for any profiles with conflicts.
Supported Formats
We currently support GEDCOM version 5.5 and the ANSEL, ANSI, and UTF-8 character sets.
Known Issues
PLAC field vs ADDR structure
Lots of GEDCOM files contain place information in PLAC fields. This field is copied directly into the place_name field in the address record. It doesn't populate the address fields (city, state, country, ...).
If you want the address fields populated, you need to make sure your GEDCOM file contains ADDR structures instead.
Please feel free to update this issue with instructions on how to do this in various genealogy programs if you know how.
Currently geocoding is done by city, state, country. I'm creating an enhancement ticket to have it geocode by place_name if those fields are empty.

Maiden name import issue
Version 5.5 of the GEDCOM standard doesn't appear to have a mechanism for specifying married names. Our importer supports the setting of married names if you export the PERSONAL_NAME_STRUCTURE in the following format:
1 NAME first middle /maiden/
2 GIVN first middle
2 SURN married

Imported Fields
The following information is imported
Notes:
 This section is incomplete.
 Italicized fields are not part of the GEDCOM 5.5 standard 
 but seem to be in common use.
 Places will appear not to import if you're GEDCOM uses a PLAC field instead of an ADDR structure. The PLAC field is copied into a place_name field in our system which is currently not exposed for editing, but should be soon.

Header Record - No
Submitter Record - No
Submission Record - No
Individual Record
 RESN (Restriction Notice) - No
 Personal Name Structure
   Name - Yes
     NPFX - Yes
     GIVN - Yes
     NICK - Yes
     SPFX - No
     SURN - Yes
     NSFX - Yes
     Source Citation - Yes
     Note Structure - No
     SOURCE - Source Citation - yes
     SOURCES - Source Citation - yes

 SEX - Yes
 Individual Event Structure (see Event Detail)
   BIRT (Birth) - Yes
   CHR (Christening) - Yes
   DEAT (Death) - Yes
   BURI (Burial) - Yes
   CREM (Cremation) - Yes
   ADOP (Adoption) - Not yet
   BAPM (Baptism) - Yes
   BARM (Bar Mitzvah) - Yes
   BASM (Bat Mitzvah) - Yes
   BLES (Blessing) - Yes
   CHRA (Adult Christening) - Yes
   CONF (Confirmation) - Yes
   FCOM (First Communion) - Yes
   ORDN (Ordination) - Yes
   NATU (Naturalization) - Yes
   EMIG (Emigration) - Yes
   IMMI (Immigration) - Yes
   CENS (Census) - Yes
   PROB (Probate) - Yes
   WILL (Will Creation) - Yes
   GRAD (Graduation) - Yes
   RETI (Retirement) - Yes
   EVEN (Generic Event) - Yes
 Individual Attribute Structure
   CAST (Caste) - Yes
   DSCR (Physical Description) - Yes
   EDUC (Education) - Yes (as an event)
   INDO (National ID Number) - No
   NATI (National Or Tribal Origin) - No
   NCHI (Number of Children) - No
   NMR (Number of Marriages) - No
   OCCU (Occupation) - Yes (as an event)
   PROP (Possessions) - No
   RELI (Religion) - Yes
   RESI (Residence) - Yes (as an event)
   SSN (Social Security Number) - No
   TITL (Nobility Type Title) - Yes
 Child To Family Link - (Handled in Family Record)
 Spouse to Family Link - (Handled in Family Record)
 SUBM - No
 Association Structure - No
 ALIA - No
 ANCI - No
 DESI - No
 Source Citation - Yes
 Multimedia Link - No
 Note Structure - Yes
 RFN (Permanent Record File Number) - No
 AFN (Ancestral File Number) - No
 REFN (User Reference Number) - No
 RIN (Automated record id) - No
 Change Date - yes
 EMAIL (Email address) - Yes
 _EMAIL - (Email address) - Yes
 ADDR - Residence - yes
 _ADDR - Residence - yes
 SOURCE - Source Citation - yes
 SOURCES - Source Citation - yes
 _HEIG - Height - yes
 NICK - Nickname - yes
 ALIA - Nickname - yes (unless it's a reference to another INDI rec)
 OCCUPATIONS - Occupation - yes
 _EMPLOY - Occupation - yes

Family Record
 Family Event Structure (see Event Detail)
   ANUL (Annulment) - Yes
   CENS (Census) - Yes
   DIV (Divorce) - Yes
   DIVF (Divorce Filing) - Yes
   ENGA (Engagement)  - Yes
   MARR (Marriage) - Yes
   MARB (Marriage Banner) - Yes
   MARC (Marriage Contract) - Yes
   MARL (Marriage License) - Yes
   MARS (Marriage Settlement) - Yes
   EVEN (Generic Event) - Yes
 HUSB - Yes
 WIFE - Yes
 CHIL - Yes
 NCHI (Number of Children) - No
 SUBM - No
 LDS Spouse Sealing - No
 Source Citation - Yes
 Multimedia Link - No
 Note Structure - Yes
 REFN (User Reference Number) - No
 RIN (Automated record id) - No
 Change Date - yes
 SOURCE - Source Citation - yes
 SOURCES - Source Citation - yes


Multimedia Record - No
Note Record
 Submitter Text - Yes
 Source Citation - Yes
 REFN (User Reference Number) - No
 RIN (Automated record id) - No
 Change Date - yes
 SOURCE - Source Citation - yes
 SOURCES - Source Citation - yes

Repository Record
 NAME - Yes
 Address Structure - Yes
 Note Structure - Yes
 REFN (User Reference Number) - No
 RIN (Automated record id) - No
 Change Date - yes

Source Record
 DATA
   EVEN (Events Recorded) - Yes
     DATE (Date Period) - Yes
     PLAC (Place) - Yes
   AGNC (Responsible Agency) - Yes
   Note Structure - Yes
 AUTH (Author) - Yes
 TITL (Title) - Yes
 ABBR (Abbreviation) - Yes
 PUBL (Publication Facts) - Yes
 TEXT (Source Text) - Yes
 Source Repository Citation - yes
 Multimedia Link - No
 Note Structure - Yes
 REFN (User Reference Number) - No
 RIN (Automated record id) - No
 Change Date - yes
 PERI (Periodical -> title) - Yes
 TYPE (Type -> description) - Yes
 URL (URL -> title) - Yes
 PAGE (Page -> description) - Yes
 PLAC (Place) - Yes
 DATE (Date Period) - Yes


Address Structure
 ADDR (Address Line) - Yes
   ADR1 (Address Line 1) - Yes
   ADR2 (Address Line 2) - Yes
   CITY (City) - Yes
   STAE (State/Province) - Yes
   POST (Postal Code) - Yes
   CTRY (Country) - Yes
 PHON - Yes

Event Detail
 TYPE (Event Descriptor) - Yes
 Date (Date or Range) - Yes
 Place (Place name) - Yes (but not structure)
 Address Structure - Yes
 AGE - No
 AGNC (Responsible Agency) - Yes
 CAUS (Cause) - Yes
 Source Citation - Yes
 Multimedia Link - No
 Note Structure - Yes
 SOURCE - Source Citation - yes
 SOURCES - Source Citation - yes
 PLACE - Place name - yes
 _PLAC - Place name - yes
 CHAN - Change Date - yes
 CAUSE - Cause - yes
 

Note Structure
 NOTE (Submitter text or Xref) - Yes
   Source Citation - Yes

Source Citation
 SOUR (Source Description or Xref) - Yes
   TEXT (Source Text) - Yes
   PAGE (Page) - Yes
   EVEN (Event Types) - Yes
     ROLE (Role in Event) - No
   DATA
     DATE (Recording Date) - Yes
     TEXT (Source Text) - Yes
   QUAY (Certainty) - Yes
   Multimedia Link - No
   Note Structure - Yes
   CHAN (Change Date) - Yes
   TEXT (Source Text) - Yes