Documents
From Wiki
Documents are a great way to add census records, ship manifests, birth certificates, and more to your relative's profiles. Just like photos and videos, you can add date and location information and tag documents to add them to related profiles.
Formats Supported: Supported file formats include PDF, or any image format, such as .jpg, .tiff, .gif, etc., with full support for multiple page documents.
Because documents are often associated with historical (public) profiles, documents are publicly viewable by default. If you upload a document for a close relative, you can make it private so that only your family can view it.
You may also Follow Documents using the Follow button at the top of the page for future reference. By default, you will follow all documents you have uploaded.
Hovercard
The new documents page displays your documents in a portfolio view. Hovering over any document will produce a hovercard that displays additional information about the document, as well as buttons for performing standard actions on the document. These actions include: Edit Document, View Larger, Comment on Document and View in New Window.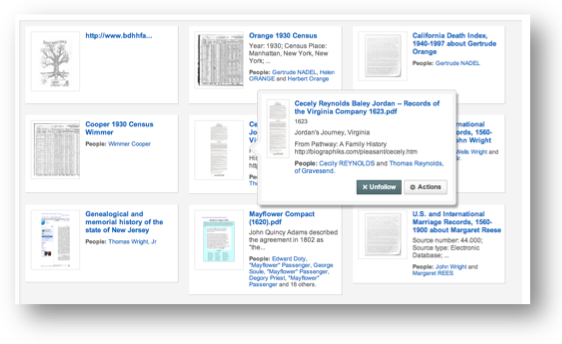 Uploading Documents
There are three ways you can upload a new document to Geni:
Upload a New Document
You may upload a document file from your computer's hard drive. Supported file formats include .PDF, .JPG, .PNG, and .TIF. Total size per upload may not exceed 256MB. PDFs can not exceed 50 pages.
Post a New Link
Here you can add a document from the Internet. Simply enter the URL or web address of a document on the Internet.
Create a New Document
You can create a new text document. You can type, or cut and paste, the text of your document, and then click save. You can even edit the text later.
Document Collections
Documents can now be organized by collections. There are currently eight predefined collections: birth, census, death, immigration, marriage, military, newspapers and other. This will help you organize your documents and make it easier to filter them when looking for documents to add as sources.
Photos to Documents
Many of you have previously uploaded documents as photos, so we've added a way to convert these to documents. Just select the photos you want to convert in your photo organizer and use the make document button. Keep in mind that there is no way to convert a document back to a photo, so make sure you select the right image!
Tagging Documents
You may tag any Document as you would a photo or video on the site. Select 'Edit' for the document and then 'People' just at the bottom of the page. Start typing a name and then you can save it. The tagged Document will then appear on that person's Profile page. You may also upload Documents directly from a Profile, this will automatically tag the Profile person whose profile you uploaded it to.
Sources
You can use a document as a source for any profile associated (tagged) in the document. Click Sources on the profile page, then "Add Source." Select the source document and continue. Select the fact or facts that the document supports on that profile. Then add a citation note (optional) and you're done.
See also