Collaborators
From Wiki
Geni is designed to help users collaborate with each other on building a shared family tree. When you find a profile that you'd like to collaborate on, you can send the manager a request to collaborate by selecting the 'More Actions' menu and then 'Request to Collaborate' from the sidebar on the right of the profile. You can also send these requests from the manager's profile, using the same menu.
If the manager accepts your request, you will be able to:
View and edit the deceased and Public Profiles they manage
Merge duplicate profiles together
Correct relationships in the tree
You will see the icon

next to the name of any collaborators you have, and also next to the names of the profiles they manage, both in profiles and in lists.
Please note:
Collaboration is free and mutual. If you request to collaborate with another user and they accept, they can then also edit your deceased and public profiles.
Use the 'More Actions' menu and then 'Request to Collaborate' from the sidebar on the right of a user's profile to send a request to that user.
Your collaborators do not gain any additional permissions on the living profiles you manage or on your own profile. Nor do they receive any additional family news stories about your activity.
You can view a list of your collaborators on the Collaborators settings page.
There's also a list of collaborators on the profile page you are viewing so you may view and work with other users interested in the same profiles.
Tips
With Tree and Add Node Matches it is now easy to find duplicate profiles attached to your Tree. Each node added to or already in the Tree that has matches will show the number of matches in a magnifying glass like the image below: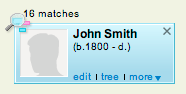 Simply click on the magnifying glass and you will be taken to a list of 'Similar Profiles.' There you may request to Collaborate with the managers of those profiles, remove unwanted matches from that list and access the duplicate profile matches. You may notice there are 3 tabs: New Matches, Approved Matches, and Removed Matches. These correspond with the Search filters and 'Removed Matches' are those matches that you have removed from that list.
Collaborators may edit any living Shared Profiles on the site managed by users they are collaborating with.